English – latest news!
World Book Day 2022
Children enjoyed dressing up as their favourite book character and showing the school in assembly. The children took part in a variety of activities throughout the week and joined in with live sessions with famous authors and illustrators!
We were really excited to hear the illustrator Nick Sharret was impressed by Year 1's drawing after his live session!
Wind in the Willows – Reception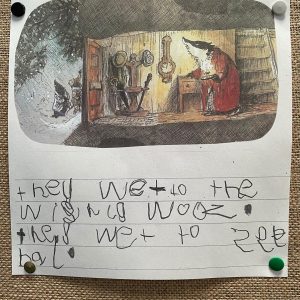 Reception have been looking at the story Wind in the Willows, which is set in our very own Henley on Thames! They wrote sentences about different parts of the stories! Great use of your phonics Reception!
English
"The overarching aim for English in the national curriculum is to promote high standards of language and literacy by equipping pupils with a strong command of the spoken and
written word, and to develop their love of literature through widespread reading for enjoyment."  – DfE, 2013, National Curriculum in England p3
Our English Policy outlines our whole school approach to the teaching and development of English.
English is integral to our curriculum at Shiplake Primary – it is through the acquisition and understanding of language and a child's experience of stories and a variety of texts that enables them to access all areas of the curriculum, to form their own ideas, to ask questions and to make connections. Through literacy, in all its forms, children learn to make sense of the world around them.
English Policy …. under review