Wind in the Willows – Reception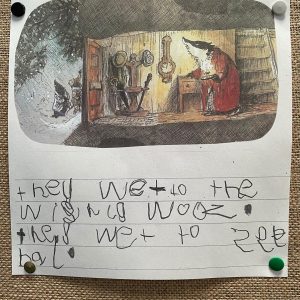 Reception have been using their phonics to write some excellent sentences! Using their phonics mats they have found the graphemes for each sound!
The context of our school
It is essential that our approach to teaching phonics and reading is accessible to all learners, regardless of background. We are committed to instilling a love of reading and books whilst providing high quality teaching of decoding through phonics and reading teaching. Shiplake C of E Primary School is part of a small community. 141 children attend Shiplake currently of which 3.55% (5 children) are PP, 4.96% (7 children) are EAL and 8.51% (12 children) are on the SEND register. Parental support at Shiplake is high as is engagement with homework. Attendance is generally high.
Intent
Phonics (reading and spelling)
At Shiplake C of E Primary School, we believe that all our children can become fluent readers and writers. We teach reading through Little Wandle which is a systematic and synthetic phonics programme. We start teaching phonics in Reception and follow the Little Wandle Letters and Sounds Revised progression document, which ensures children build on their growing knowledge of the alphabetic code, mastering phonics to read and spell as they move through school.
As a result, all our children are able to tackle any unfamiliar words as they read. At Shiplake C of E Primary School we also model the application of the alphabetic code through phonics in shared reading and writing, both inside and outside of the phonics lesson and across the curriculum. We have a strong focus on language development for our children in order to acquire crucial skills for reading and writing in all subjects.
Yearly overview of phases taught in Reception and year 1.
 
Autumn 1
Autumn 2
Spring 1
Spring 2
Summer 1
Summer 2
Reception
Phase 2
Phase 2
Phase 3
Phase 3
Phase 4
Phase 4/ Year 1 transition
Year 1
Phase 3 and 4 review +

Beginning Phase 5

Phase 5
Phase 5
Phase 5
Review Phase 5 for screening check
Phase 5
Look at our programme Overview for a further break down: Programme Overview Reception and Year
Comprehension
At Shiplake, we value reading as a crucial life skill. By the time children leave us, they read confidently for meaning and regularly enjoy reading for pleasure. Our readers are equipped with the tools to tackle unfamiliar vocabulary. We encourage our children to see themselves as readers for both pleasure and purpose.
English Phonics and Early Reading Policy (Written and ratified by Bee Hendry September 2021)