Artists and Makers Fair – Saturday 9th December 2023
The next Artists & Makers Fair (www.artistsandmakersfairs.co.uk) is on Saturday 9th December (10.00 to 16.00) at the Methodist Church on the corner of Gosbrook and Ardler Roads, Caversham.  It will be the biggest fair of the year with an even larger range of wonderful arts and crafts than usual.  40 stallholders are attending so as well as many old favourites, there will be some interesting new additions. All stallholders have to design and make their own goods and most hail from Caversham and the surrounding area.  We will also be running our popular "Lobby Café" serving homemade cakes. All drinks proceeds from the café go to charity, this month we are supporting Reading Samaritans. Last month the fair raised £67 for The Royal British Legion. 
This month's children's activity will be a glass painting with Francis and Maggie of Kingswood Crafts. There will be the usual free children's colouring competition.
Entrance is free and there is plenty of free on street car parking but it's not far to walk from central Caversham.
 
Christmas Holiday Activity Camps – Performance Sports
Performance Sports are running activity camps over the Christmas break.
Tag Rugby Camp at Henley Hawks (RG9 2JA) – for years Reception to 3
Football Camp at Rotherfield United FC (RG4 9BT) – for years 2 to 9
Please see below for further information

The Jungle Book – StageWorks Performing Arts School
The students of StageWorks Performing Arts School are about to perform their immersive show, at Shiplake Memorial Hall!
20th to 25th November 2023
Tickets on sale NOW
email  :  enquiries@stageworks.org.uk

Christmas Trail at Binfield Heath Chapel
On Saturday 9th December – 10am until noon.  Start at the Chapel to pick up your trail sheet.  Follow the stars to fill it in.
When you have finished the trail, come back to the Chapel for your prize and some Christmas refreshments and activities.
This is a free activity.  The walk goes through fields – wear your wellies!

Shiplake Handchimes Choir
Young ringers wanted! (age 7 and over) Fridays 4.30pm to 5.30pm – The Ark, Shiplake Church
Contact imhelen@gmail.com

The Bucks Country Show – the show with something for everybody!
1st and 2nd July 2023 at Penn Estate, Beaconsfield, Amersham, HP7 0PS
Free parking – dogs welcome!  open 10am to 5pm
www.buckscountryshow.co.uk
Discounted tickets online…..

Reading Brick Show
CALLING ALL LEGO FANS!
10th to 11th June 2023 at Loddon Valley Leisure Centre
Buy Tickets now at www.readingbrickshow.com
Half Term Activities – 'Care for Creation'
Come and join in the fun!  Creative activities for children and adults at Shiplake Church – Tuesday 30th May to Friday 2nd June.  10.30am to 12.30pm
Places are limited, p0lease contact Sarah to book your sessions at : revsarahjoy@gmail.com
*Children must be accompanied.
Resourced by donations
Holy Week Services
United Benefice of Shiplake with Dunsden and Harpsden cum Bolney are pleased to share with you their timetable for the Holy Week services.  Everyone welcome!
Easter Cookery Camps
SmartRaspberry Cookery School are running Easter Cookery Camps at Peppard War Memorial Hall and Harpsden Village Hall  between 4th and 13th April.  For further information please CLICK HERE
Junior Girls' Cricket at Henley CC
Welcoming all girls from ages 7 to 17, offering an opportunity to develop your cricketing skills and meet new friends and teammates.
Practice sessions:
INDOOR at Shiplake College on Saturday afternoons from January to April
OUTDOOR at Henley Cricket Club on Friday evenings April to September OR at Harpsden Cricket Club on Saturday mornings
CONTACT  :  henleygirlscrickethq@gmail.com  OR  Anthony on 07843 450758

Easter Tennis Camps – Shiplake Tennis Club
COTennis are now hosting holiday camps at Shiplake Tennis Club.  Everyone is welcome and it's the perfect way to get your kids outside and active this Easter Holidays!
Suitable for ages 4 – 14
Running April 3rd to 6th and April 11th to 14th at Shiplake Tennis Club RG9 4DN
Further information and bookings :  www.cotennis.co.uk
Easter Trail at Binfield Heath Chapel
Saturday 1st April 2023 – running between 10.00am and 12.00midday.
Pick up your trail sheet from the Chapel and go for a walk to find the answers
Return to the Chapel to collect your prize and enjoy some Easter crafts and refreshments.
The Oratory School – Upcoming Open Morning
The Oratory School will be holding a Whole School Open Morning on Saturday 4 March 2023.
Further information is attached
Half Term activities – 'Exploring Easter'
Shiplake Church are delighted to be offering activities for all ages again this half term. It will be a really fun week and we hope this helps with your half term plans! Please do share with your friends and family – spaces are limited so please book as soon as you are able. 
You can book by emailing Leigh at 
benefice.sdh@gmail.com
; we will need a contact telephone number and the names of all attendees. Children under 18 must be accompanied, but please feel free to bring friends too. We will ask their ages so our provisions meet their needs.
The sessions will run from Monday 13th – Thursday 16th February from 10.30am – 12.30pm but you may arrive and depart at any time. Please just sign in with Revd Sarah when you arrive so we have a record of attendance.
If you need any additional information please let us know.
Leigh & Sarah
Outline plan (subject to minor amendments). You may participate in as many as you wish.
Every day: Easter Edibles
Monday: hand chimes, chickens in baskets, Easter frieze (Palm Sunday)
Tuesday: Easter hats, beaded nail crosses, Easter frieze (The Last Supper)
Wednesday: Easter gardens, Easter cards and prayer door hangers, Easter frieze (Crucifixion)
Thursday: Easter wreaths, silk painting, Easter frieze (Resurrection)
and other bits and pieces each day such as egg decorating, Candlemas quiz, Easter emoji explorers, bellringing (Weds & Thurs) and palm frond/cross-making

Footsteps – Walking with Children
You will know the importance of keeping your child safe when near traffic. This short leaflet, Footsteps-Parents-guide, will give you some simple activities to use that will help you achieve this, whilst giving you some interesting things to do and talk about with your children.
As adults we know how to be safe pedestrians. But young children won't have learnt those skills yet.
By teaching your child road awareness, you are enabling your child to make their own choices and decisions with your help when walking and crossing the road.
Ask questions rather than tell your child what to do.
Involve your child in the decision making and explain why you are doing things.
And remember your child will copy your behaviour so be consistent, even if you are in a hurry.
Never do anything you wouldn't want your child to do when they are on their own.
Start Footsteps as soon as you feel your child is ready, the sooner the better. This is a learning journey and it may take a long time before your child can cope on their own.
Please don't expect quick results, take it at their pace. As your child shows you they can cope, move on to more challenging tasks. You know your child best, so you will know when they are ready to go out without you.
Download our Footsteps-Parents-guide and start your child's road awareness journey.
Tumblestone Hollow, Stonor Park – half term activity
From Saturday 11th February to Sunday 19th February, Tumblestone Hollow is open for adventure days and in the attached PDF, one adult is entitled to a free coffee when accompanying one child between those dates. Visitors would need to present the leaflet and have pre-booked tickets online. Tickets can be booked via the website: www.tumblestonehollow.com.
Tumblestone Hollow is the ultimate playground experience within a beautiful parkland setting – there's magical characters, high level walkways, lookout decks and bridges to entertain the whole family. Tasty wood-fired pizzas, hot and cold drinks and other refreshments are served by The Rumble Huts.

Tumblestone Hollow_February Half Term
Hambleden FC Under 9's
Launching our new team, ready for next season!
FA Qualified coaches – midweek floodlit training – Sunday morning matches – we own our ground, facilities and clubhouse
Register now!  Contact Mark 07730587289 – email hambledenfc@gmail.com
www.hambledenssc.co.uk/football

Binfield Heath Chapel – Christmas services and events
We invite you to our Christmas services and events
Saturday 10th December 10am to 2pm – Christmas Trail for children and families
Sunday 11th December 4.30pm – Carols by Candlelight
Friday 16th December 7.30pm – Carols by Candlelight
Sunday 25th December 10am – Christmas Day Service

The Chiltern Centre Charity Cinema
Upcoming events at Leander Club – charity screening of Frozen II on Sunday 27th November.  For further information, please see below:

YouMove – low cost and free activities for families to enjoy together!
YouMove is brand new for Oxfordshire and is here to provide free or low cost activities for families across the county. If your child or children are in receipt of benefits related free school meals, then we have a fantastic range of activities to enjoy together, including during weekends and school holidays. In addition, YouMove is here for children in need of support; this includes refugee children, young carers and children in or on the edge of care.
For more information visit www.getoxfordshireactivie.org/you-move  or click on the link here YouMove
Tilehurst Fundraisers for Ukraine
Hi, we are a group called 'Tilehurst fundraisers for Ukraine'.  We are holding a Christmas Fair on Saturday 19th November 2-4pm at Tilehurst United Reformed Church, Polsted Road (off Armour Road) RG31 6HN.    Please feel free to join us.
If you would like to donate bottles of any kind for the Tombola, or have other donations it would be very much appreciated.
We collect donations for Ukrainian families during our social event for Ukranian families and their host families every Saturday 11am-4pm 
at the United Reformed Church.  Please
 check our facebook page 'Tilehurst fundraising for Ukraine' for more details.
Many Thanks Jenni, Lisa and the Team.
AFC Henley – Mini-Soccer Centre
Have fun and make new friends as you develop your football skills at Oxfordshire FA's 2021 Grassroots Club of the Year!
Saturday mornings – for Reception to Year 3 – for full details visit www.afchenley.com/information
Jubilee Park, Opposite Tesco – just turn up and register at the gate.  First session free and U5's free until October half term!
Tag Rugby Morning at Henley Rugby Club
Performance Sports are running the popular October half term tag rugby coaching morning at Henley Rugby Football Club on Friday 28th October.  The morning will involve a series of coaching drills and coached matches with lots of fun and learning.  To book onto the course and for more information please follow the link below:
Any profits from the course will go back to help fund the community coaching programme in schools in the Henley area.
Shiplake Tennis Club
Shiplake Tennis Club now has spaces for beginners and improvers aged 5 years old and upwards.  Lessons are 1 hour long and run during term time, either on Saturday mornings or Thursday after school.  Fees are £80 per 10 week term.  Coaching participants must also be a junior member which is £50 per calendar year, but for the remainder of this year we are waiving the junior membership fee for new starters.
If you would like your child(ren) to join or have further questions please email membership@shiplaketennisclub.co.uk
More information about the Club can also be found at https://www.shiplaketennisclub.co.uk
Family Fireworks at Dunsden Village Hall
Saturday 29th October at 6pm
Book now!  buytickets.at/dunsden
Family Fireworks at Dunsden Village Hall
1st Shiplake Beavers FUNDRAISER
Friday 7th October 3.30pm to 5.00pm.
Please help us raise some money for our Beavers group by coming along on Friday 7th October straight after school for the chance to buy some treats!
Shiplake Church – Half term activities 'Create for Christmas!'
Looking for inspiration for Christmas or just want to join in for fun.  Sessions for everyone of all ages at Shiplake Church  :  October 24th to 28th – 10am to 12noon.
Children must be accompanied
Places are limited, please contact Leigh to book your sessions  :  benefice.sdh@gmail.com
Click below for details of the activities on offer
Half term activities at Shiplake Church
Gillotts School Open Evening and Open Day
Open Evening – Thursday 29th September 6pm to 8.15pm
Open Day – Tuesday 4th October 9.15am to 12.00pm
To view our online prospectus and find out more visit  :  www.gillotts.org.uk
Thames Studio Pilates
Lessons local in Henley on Thames – contact Rachel on 07737799216 or email rachellloyd2002@hotmail.com
www.thamesstudiopilates.com
Countryfile Ramble Children in Need – 2nd October 2022
We have the first ever Countryfile Ramble Children in Need in our area! This will take place on 2nd October 2022 from Nettlebed.
We have 4 walks on offer, from a short family walk, a longer walk, a walk for disabled people and a long walk. We would like many people to join and make this a success! It is organised by Walkers are Welcome Henley on Thames. All proceeds will go to Children in Need.
Details and how to register to be found on the website: 
https://walkhenley.co.uk/2022/08/05/countryfile–ramble-for-children-in-need-2/
Registration is now open.
An Evening with the ART THEMEN TRIO (Thane & The Villeins) – Saturday 1st October 2022 at 7.00pm
At All Saints' Church, Dunsden – tickets £15
All profits from the evening will be donated to the Ukraine Appeal
For tickets:  please email Rosemany Jones  ( rsjones45@yahoo.com )
Refreshments in the interval
Peppard Stoke Row Cricket Club – Juniors Cricket
Peppard Stoke Row Cricket Club ('PSR') is a family focussed club for Juniors (U6-U19) and Seniors to play a sociable sport.
We are currently looking for more parents to help, whether coaching (perhaps obtaining ECB qualifications but not required), managing teams in leagues (liaising with parents over children's availability, re-arranging fixtures when cancelled due to rain, organising lift shares), scoring and umpiring.  
We are planning to open the bar at Peppard Cricket Club from 6.30 to 8pm on Friday 1st April for a meeting for all Junior Coaches, helpers and parents who would like to come along to discuss the coming season.  We will discuss everything from league structures to kit, matches and answer any questions you may have before the season kicks off. Please do come along!
Junior Cricket at Kidmore End Cricket Club
Kidmore 

End

 Cricket Club

 runs Junior cricket programmes for 4-8year olds, as well as sessions for girls and boys aged 8-15.
GIRL'S CRICKET runs on Tuesday evenings at 6pm for 8-15 year olds. Sessions suit all levels of players – beginners of any age VERY welcome – and teams participate in local leagues. First session Tuesday 19 April.
BOY'S CRICKET runs on Friday evenings at 6pm for 8-13 year olds. Sessions are split into age groups, and also suit all levels of players. Teams participate in local leagues. First session Friday 22 April.
Cricket for 4-8 YEAR OLDS runs on a Saturday morning, led by our Coaching Partners – Concept Cricket. More details and booking on the website: 
Concept Cricket Kids
EASTER CRICKET CAMP
Mon 11 – Thu 14 April, 9am – 5pm
Suitable for boys and girls, beginners and more experienced players. Ages 5-13. £40 per day or £130 for 4 full days.
Kidmore
End
 is a friendly club, with lovely grounds in Gallowstree Common (RG4 9BU) with a bar and food available. New players are welcome in all sections. For more details contact 
keccjuniors@gmail.com
 or visit 
www.

kidmore

endcc.co.uk
Junior Cricket at Harpsden Cricket Club
Every Friday, starting 22nd April from 4pm until 5pm
School years Reception to Year 4 – £5 per session or season tickets available
harpsdencc@gmail.com
The Oratory School Open Morning – for parents of Years 5 and 6
The Oratory School is hosting its Open Morning on Saturday 26 February, 9.30am – 12.30pm. Open to all boys and girls in Year 5 & Year 6.
Our Open Morning offers the chance to explore our facilities in their beautiful surroundings and meet our staff and pupils in person. Please see the flyer below.
To register your place, please visit https://www.oratory.co.uk/admissions/open-morning
Cowcott Gym  :  New Fitness Class at Shiplake Memorial Hall
I am running a fitness class at Shiplake Memorial Hall on Wednesdays at 12pm starting next week (9th February).    The first class will be free.  There is space for 15 so please sign up with me tim@ccgshiplake@gmail.com
Visit my webpage  :  https://cowcottgym.com/
Henley RFC/Performance Sport PROP Tag Rugby Programme
Open to Years 1, 2 and 3, tje Henley RFC/Performance Sports PROP tag rugby programme is running over the February half term holiday.  For more information follow this link  :   Google form
Swings and Smiles Sibling Support Workshop – Thursday 24th February 2022
Swings and Smiles are very excited to bring our SIBSupport Workshops to Abingdon this February half term.
CLICK HERE for further information
February Half-Term Tech Camp
We are pleased to announce our Tech Holiday Campsare running on the 21st–25th February 2022atTrinity Primary School, RG9 1HJ.
We have 5 days of exciting activities to feed the mind of your inquisitive genius following themes:
Bot Builders and Coders ?–Our popular robot programming course
Ingenious Inventors ?‍– Implement circuitry to make anything from an alarm to a FM Radio!
Virtual Reality ?‍?–Engage with your imagination! Learn about the world of virtual reality including motion sensing and video control skills to bring places and characters to life through your headset.
Expert Engineers ?– Fantastically fun

! Discover how to construct and make mechanisms move. 

Media Madness ?– Have a creative blast, with movie editing and music production
With the world becoming more digital, this is the perfect camp to develop STEM skills and keep your child ahead. Our camps are for ages 5-11 (years 1- 6) only.Spaces are limited, for more information, please see attached flyer or to enrol now simply visit: www.nextthing.education
Don't forget to use the code FEB2 for £5 off your booking!
Safety is our number one priority and we have implemented meticulous procedures at our camps to ensure that children and staff are safe. You can find more about our latest covid measureshere.
Fun Family Maths Online!
Are you a parent or carer who would really like to help your child with maths – but don't know where to start?
Try out our simple games and activities for an hour online with our friendly team.
More information and to register  :  Family Maths Online Eventbrite.  Saturday 12th February 10am to 11am
Register before January 31st to be sent a free activity pack
Event run by Quest for Learning – inspiring young minds
The Gymnast Academy (TGA) – RECREATIONAL GYMNASTICS
TGA are running Recreation Gymnastics at Ryeish Green Sports Hub.  Wednesday evenings, Saturday afternoons and Sunday mornings.  Ages 4 and up – all abilities welcome.  For more information or to make a booking contact  admin@thegymnastacademy.co.uk
Shaddo presents….. Sleeping Beauty
Shiplake Memorial Hall on 28th and 29th January 2022.  Tickets on sale in local shops from 4th January
Christmas Concert for young children – Henley Symphony Orchestra
Saturday 18th December at Christ Church, Henley on Thames at 4.30pm.  Tickets £5 – children £3 and under 2's free
Further information from www.henleysymphonyorchestra.co.uk
HSO Xmas concert for young children
A Concert for Christmas – Henley Symphony Orchestra
Saturday 18th December 2021 at Christ Church, Henley on Thames from 6.30pm to 7.45pm.  Tickets £15 – students £7 – under-10's £3
Further information from www.henleysymphonyorchestra.co.uk/contact
Walk into Christmas – Benefice Nativity
Sunday 19th December 2021 from 2pm to 4pm.
Follow the stars around the churchyard and through the church to explore the story of Christ's birth
At All Saints' Church, Dunsden RG4 9PH
Everyone welcome, all donations will go to the Reading Refugee Support Group (www.rrsg.org.uk)
Henley Lions Club Santa's Sleigh – Tuesday 7th December 2021
Just to let you know the Henley Lions Club Santa's Sleigh accompanied by the 1st Shiplake Scout Group will be visiting Shiplake on Tuesday 7th December.
Collecting around Lower Shiplake starting from the corner of Station Road and Crowsley Road at 6:00 pm, weather permitting.
The route takes in The Chestnuts, Baskerville Lane, Badgers Walk, Brocks Way, Oaks Road, Lower end of Station Road, Northfield Avenue, Brampton Chase, Manor Wood Gate.
Online donations can be made at:
https://www.justgiving.com/campaign/henleylionssantasleigh2021
Lions Club of Henley-on-Thames (CIO) Santa's Sleigh 2021. Once again this year Henley Lions will be helping Santa visit the neighbourhoods of Henley and Shiplake.

www.justgiving.com
Every penny donated to Henley Lions Club goes to support local charitable causes and we appreciate every contribution regardless of amount.
Santa is coming to The Baskerville
…..on Tuesday 14th December 2021 from 3.30pm to 8.00pm.
The Baskerville in Shiplake are organising a special Santa's Grotto in aid of two charities: Brave Mind and the London Irish Foundation.
From 3.30pm-8pm children can enter our beautiful fireside Grotto inside of the pub to meet Santa and his elves for a generous gift. We'll also have a range of artisan market stalls, street food and mulled wine to enjoy.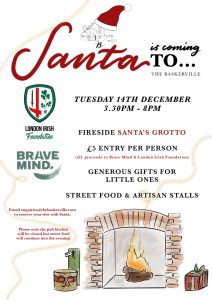 Shaddoo World of Theatre Winter Walk – 24th December to 3rd January
Do you remember the Shaddo Panto trail last Christmas?
Last year there was no village Pantomime because of covid. Instead, Shaddo organised a walking trail round Shiplake, Shiplake Cross' and Binfield Heath. Shaddo members and friends put a display tableau in their gardens depicting a Pantomime theme, and local residents were invited to follow the walking trail to look at the gardens between Christmas and New Year.
This was very successful and we are now preparing for a repeat performance.
So ….are you feeling artistic? Would you like to take part in this fun project?  Think of a theatrical/ musical / Pantomime production and make a display for your garden or your front window that is visible from the pavement. ( no one would need to  come into your garden).   If you have an idea of what you would like to do let us know.
If you would like to join in but can't think what to do get in touch with us, we have lots of ideas and a box of props.  A map will be provided for walkers so they don't miss anything
Contact us on winterwalk@shaddo.uk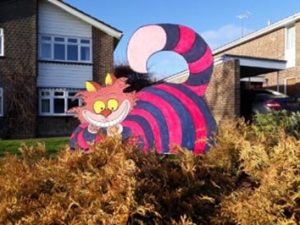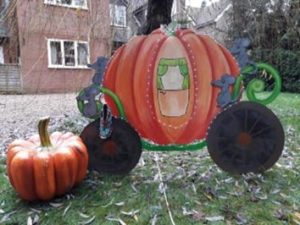 Little Fishes –  Baby, Toddler and Carer Group
Every Wednesday from 10am to 11.30am (term time only)
Join us for stay and play including craft activities, a Bible story and singing.  Refreshments will be provided
Venue  :  Binfield Heath Church, Dunsden Way, Binfield Heath RG9 4LJ
www.binfieldheathchurch.org.uk – or find us at facebook.com/binfieldheathchurch