Shaddo presents….. Sleeping Beauty
Shiplake Memorial Hall on 28th and 29th January 2022.  Tickets on sale in local shops from 4th January
Christmas Concert for young children – Henley Symphony Orchestra
Saturday 18th December at Christ Church, Henley on Thames at 4.30pm.  Tickets £5 – children £3 and under 2's free
Further information from www.henleysymphonyorchestra.co.uk
HSO Xmas concert for young children
A Concert for Christmas – Henley Symphony Orchestra
Saturday 18th December 2021 at Christ Church, Henley on Thames from 6.30pm to 7.45pm.  Tickets £15 – students £7 – under-10's £3
Further information from www.henleysymphonyorchestra.co.uk/contact
Walk into Christmas – Benefice Nativity
Sunday 19th December 2021 from 2pm to 4pm.
Follow the stars around the churchyard and through the church to explore the story of Christ's birth
At All Saints' Church, Dunsden RG4 9PH
Everyone welcome, all donations will go to the Reading Refugee Support Group (www.rrsg.org.uk)
Henley Lions Club Santa's Sleigh – Tuesday 7th December 2021
Just to let you know the Henley Lions Club Santa's Sleigh accompanied by the 1st Shiplake Scout Group will be visiting Shiplake on Tuesday 7th December.
Collecting around Lower Shiplake starting from the corner of Station Road and Crowsley Road at 6:00 pm, weather permitting.
The route takes in The Chestnuts, Baskerville Lane, Badgers Walk, Brocks Way, Oaks Road, Lower end of Station Road, Northfield Avenue, Brampton Chase, Manor Wood Gate.
Online donations can be made at:
https://www.justgiving.com/campaign/henleylionssantasleigh2021
Lions Club of Henley-on-Thames (CIO) Santa's Sleigh 2021. Once again this year Henley Lions will be helping Santa visit the neighbourhoods of Henley and Shiplake.

www.justgiving.com
Every penny donated to Henley Lions Club goes to support local charitable causes and we appreciate every contribution regardless of amount.
Santa is coming to The Baskerville
…..on Tuesday 14th December 2021 from 3.30pm to 8.00pm.
The Baskerville in Shiplake are organising a special Santa's Grotto in aid of two charities: Brave Mind and the London Irish Foundation.
From 3.30pm-8pm children can enter our beautiful fireside Grotto inside of the pub to meet Santa and his elves for a generous gift. We'll also have a range of artisan market stalls, street food and mulled wine to enjoy.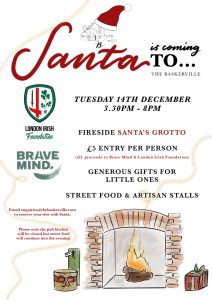 Shaddoo World of Theatre Winter Walk – 24th December to 3rd January
Do you remember the Shaddo Panto trail last Christmas?
Last year there was no village Pantomime because of covid. Instead, Shaddo organised a walking trail round Shiplake, Shiplake Cross' and Binfield Heath. Shaddo members and friends put a display tableau in their gardens depicting a Pantomime theme, and local residents were invited to follow the walking trail to look at the gardens between Christmas and New Year.
This was very successful and we are now preparing for a repeat performance.
So ….are you feeling artistic? Would you like to take part in this fun project?  Think of a theatrical/ musical / Pantomime production and make a display for your garden or your front window that is visible from the pavement. ( no one would need to  come into your garden).   If you have an idea of what you would like to do let us know.
If you would like to join in but can't think what to do get in touch with us, we have lots of ideas and a box of props.  A map will be provided for walkers so they don't miss anything
Contact us on winterwalk@shaddo.uk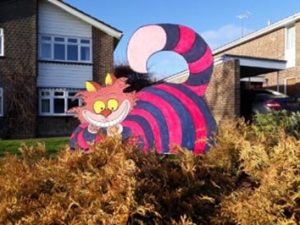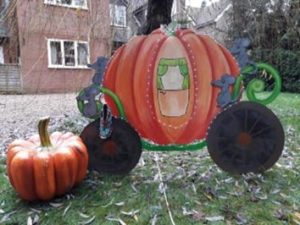 Little Fishes –  Baby, Toddler and Carer Group
Every Wednesday from 10am to 11.30am (term time only)
Join us for stay and play including craft activities, a Bible story and singing.  Refreshments will be provided
Venue  :  Binfield Heath Church, Dunsden Way, Binfield Heath RG9 4LJ
www.binfieldheathchurch.org.uk – or find us at facebook.com/binfieldheathchurch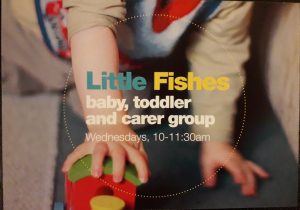 SmartRaspberry Christmas Holiday Cookery Workshops 2021
This Christmas Holiday we will be running a variety of festive in person cookery workshops…all week! Book Now as places are going fast and our **Early Cook Discount offer ends Friday 26th November.
Recipes include: Melted Snowman Cookies, Mince Pies, Mini Pesto Pastry Christmas Trees, Gingerbread house, Christmas Pudding Oreo Truffles & Pesto Pastry Christmas Tree…and lots more!!
Monday 20th & Tuesday 21st December (10-12.30pm)
Venue: Jordans Village Hall (Beaconsfield)
suitable for 5-10 year olds
£30 per child instead of £35**
Please click on the booking link below for more info: https://portal.smartraspberry.com/Classes/Course+Details/?course_id=1086
Wednesday 22nd  December (10am-12.30pm)
Venue: Beaconsfield High School
Suitable for 10-15 year olds
£30 per child instead of £35**
Please click on the booking link below for more info: https://portal.smartraspberry.com/Classes/Course+Details/?course_id=1087
Thursday 23rd December (9am-3pm)
Venue: Beaconsfield High School
Suitable for 10-15 year olds
£50 per child instead of £60**
Please click on the booking link below for more info: https://portal.smartraspberry.com/Classes/Course+Details/?course_id=1088
Tuesday 21st December (10-12.30pm)
Venue: St Mary's Prep School (Henley on Thames)
Suitable for 5-11 year olds
£33.50 per child instead of £38.50**
Please click on the booking link below for more info: https: https://portal.smartraspberry.com/Classes/Course+Details/?course_id=1095
Wednesday 22nd & Thursday 23rd December (10-12.30pm)
Venue: Peppard War Memorial Hall (Henley on Thames)
Suitable for 5-11 year olds
£30 per child instead of £35**
Please click on the booking link below for more info: https://portal.smartraspberry.com/Classes/Course+Details/?course_id=1070
If you would like to find more information or book your children onto one of our workshops please click on the appropriate link, or alternatively please don't hesitate to contact us with any questions you may have at : info@smartraspberry.com
We can't wait to see your children for some fun festive cooking!
StageWorks proudly presents JACK AND THE BEANSTALK
Jack and the Beanstalk is coming to The Kenton Theatre, Henley this November with students of StageWorks, and everyone is excited!
The Kenton Theatre, Henley on Thames – from 8th to 13th November 2021.  Tickets now available.  Call 01491 575698 or visit www.kentontheatre.co.uk
GRAB YOUR TICKETS AND ENJOY LIVE THEATRE ONCE AGAIN!
Pop-up solo exhibition of animal life drawing – Hypergallery, Henley on Thames
From Friday 12th November (6.30pm to 8.30pm) to Sunday 14th November (10.30am to 4.30pm) at Hypergallery, Market Place, Henley-on Thames
ALSO – online at www.hollysurplice.co.uk
More from Holly – 'The exhibition is a real celebration of observation animal life drawing.  It showcases my favourite characters and is full of movement, personality and colour.  I've painted every one of these pieces with a smile on my face and I hope that is what they bring to those who see them'.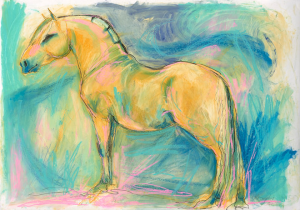 Shiplake College Christmas Fair – Saturday 13th November 2021
You are invited to the annual Shiplake College Christmas Fair – Over 40 gift stalls, Santa's grotto, festive food and drink and Shiplake Community Choir.  Free entry and parking
www.shiplake.org.uk/christmasfair
SATURDAY 13TH NOVEMBER 2021 FROM 10AM TO 2PM
Cranford House 'Wings and Wheels' event – Saturday 6th November 2021
We have a very exciting community open event on Saturday 6 November and we welcome your pupils and families to join in the sights and sounds of unique motorcars, vintage vehicles and powerful aircraft. 
Aimed at children aged 3-11, this free fun-filled junior school event aims to inspire young minds by bringing the science and engineering behind automobiles and aviation vividly to life. As well as a cavalcade of motorcars, from vintage models to an Aston Martin Formula 1 Show Car, visitors can look forward to treats from the world of aviation, including a static Spitfire display, as well as a thrilling Spitfire air show. STEM inspired activities will be on offer throughout the school for children from Nursery to Year 6 including t-shirt printing, scalextric mini racing, an inflatable assault course and hands-on science experiments.
Places are now available to book online via the link below. 
https://www.eventbrite.co.uk/e/wings-wheels-junior-discovery-day-tickets-173509841607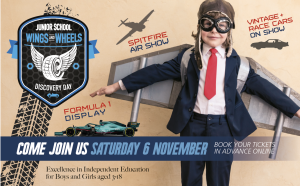 Tea with God Family Service – Sunday 17th October 2021
Everyone welcome to come along to the Tea with God Family Service at Shiplake Church on Sunday 17th October 2021 starting at 4pm.  For songs and hymns, prayers and reflection.  Make your own seasonal lantern.  Sweet and savoury seasonal refreshments available.
Tea with God Family Service October 2021
Player Reach Out Programme (PROP) – Henley Rugby Club/The Performance Sports Group
As you may be aware we're fortunate to be visited by tag rugby coaches from Henley Rugby Club and The Performance Sports Group each week to work with our children in KS1 and Lower KS2. This partnership is known as the Player Reach Out Programme (PROP) with lots of Henley Primary schools involved. The majority of the funding comes through the rugby club and we contribute our own Sports Premium funding towards delivery as well.
Building on the success of the programme children are invited to further their rugby skills, enjoyment and experience at Henley Rugby Club on a Sunday morning. Sessions for children in Year 1, 2, 3 and 4 takes place from 9.30am to 11am. "Have a go" sessions are available whereby children can go along and literally "have a go" playing alongside a wonderful team of coaches. If you're interested in going along please contact Nick Bradbury, Junior Chairman, on bradburynick101@yahoo.com
In addition, Henley Rugby Club will be hosting a minis morning rugby festival in October Half Term. The date is Wednesday 27th October from 8.30am to 12.30pm. The cost is just £20 for the morning and will include fun, games, skills development and lots of enjoyment. This half term session is available for children from Reception to School Year 3. All profits are put back into the PROP programme to help fund delivery in schools. A fantastic initiative that has been running for 4 years. Check out the attached flyer for further details.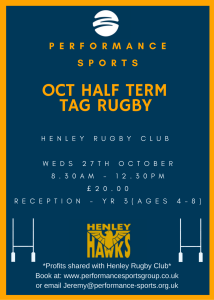 Harvest – Tea with God – SUNDAY 19TH SEPTEMBER 2021 at Shiplake Church
Reverend Robert would like to invite you all to a family service to celebrate Harvest at Shiplake Church on Sunday 19th September 2021 at 4pm.  This will be followed by cream tea.
We hope you can join us.
Cranford House Stretch & Challenge series starts in October!
Open to boys and girls in Year 5 and 6, these completely free sessions are designed to stretch, challenge and inspire. During a morning of fun, imagination and energy, children will gain a taste of the exciting subjects that await them at Senior School, courtesy of our specialist teachers. Stretch & Challenge sessions are free and run from 9am – 12 noon. Places are limited so if you would like to register your child for any of the dates below, please complete the online form below.
Book your attendance in advance – places are limited
https://www.cranfordhouse.net/information/stretch
Local secondary schools open day/evenings – Autumn Term 2021
Gillotts School : 23rd September 6pm to 8.15pm and 28th September 9.15am to 12.00pm
Please visit https://gillotts.org.uk/admissions/open-days/ for further information
Maiden Erleigh Chiltern Edge School  :   Open Evening 28th September and open mornings throughout September and October.  Please visit  https://www.maidenerleghchilternedge.co.uk/news/?pid=0&nid=1&storyid=127 for further information/booking
Langtree School  :  Year 6 Open Evening – Thursday 30th September 2021  Year 6 Open Mornings – Monday 4th and Thursday 7th October 2021.  Please visit https://langtreeschool.com/notices/year-6-open-evening-and-open-mornings/  for further information/booking
Heroes' Return from the Tokyo 2020 Olympic and Paralympic Games
Join the GB Olympic and Paralympic athletes of the Henley area for a row-past between the River and Rowing Museum and Upper Thames Rowing Club, an open-top bus tour on a circuit through the town, and an athlete meet and greet at the Town Hall!
Event is taking place in Henley on Thames on Saturday 18th September 2021 starting at 10.30am (finish time 13.00)
Binfield Heath Flower Show – call for volunteers!
The Binfield Heath Flower & Dog Show returns this year, after an enforced break in 2020. Charlie Calderbank, parent of two pupils at the school, has taken over as chairman and is keen to make the show as fun as can be for everyone who is able to make it. This year's event is on 28th August. We have a circus performer coming along, the ferret racing is back and the dog show is always a firm favourite, which you can enter on the day.
What we do need is… volunteers. The more volunteers we have, the more we can do and it would be great if people could donate just a few hours. There are children's races, hoopla, a coconut shy and plenty more activities, but we can only put on those things for which we have volunteers. It really can be just an hour or whatever time you can spare. The show has always gone down well with kids, so do get in touch if you can help out.
Charlie is available at backbreaker82@hotmail.com or 07969 572 054
An invitation to join in on August 1st, 10am at All Saints, Dunsden: Holy Communion and Pet Service
The local church is celebrating the many ways we are aware of God's love and in particular with and through our pets. During the restrictions of the pandemic, pets have been an extra special part of many lives so we want to celebrate this and give thanks. Some pets have died since our last pet service and we wish to respect that loss.
It is a less formal Communion service that shows and shares God's love in bread and wine … there will be treats for animals and refreshments afterwards.
Please come, with or without a furry, feathered, scaly friend, or a photo.
Let's enjoy and give thanks for all God's creatures.
Please book to attend by emailing 
benefice.sdh@gmail.com
, giving details of pets/photos of pets that will be coming with you.
Reverend Sarah
Join 

the

 

Daisy

 Chain Project!
Why not start your summer holidays creatively and be part of 
the
 longest virtual 
daisy
 chain? In Collective Worship recently, Reverend Robert talked to us about 
the
 importance of being resilient and linked this to daisies. Artist Ali Hargreaves has set a challenge to create 
the
 longest virtual 
daisy
 chain across 
the
 country by using your artistic skills. 
The
 link below will take you to her website where you will find a free tutorial to guide you through your artwork, and more details on how to upload your work and become part of 
the
 project. 
The
 closing date for submissions is August 13th.
Shiplake Residents – Communications Questionnaire – MESSAGE FROM THE SHIPLAKE VILLAGES COMMUNICATIONS TEAM
PLEASE COMPLETE THIS COMMUNICATIONS QUESTIONNAIRE
We'd appreciate if you could take a few minutes to fill in this Communications Questionnaire  that will help us shape Shiplake villages' communications and ensure it best meet your needs.
 As you know the world of communications and social media changes rapidly; how we communicated together as a village today is very different to ten years ago. That's why we need to keep checking to understand things such as how you'd like to receive village news and share information.
We hope as many people as possible will complete the questionnaire (online is the preferred route, but hard copy forms are available via the Parish Clerk [ Roger Hudson 07809 829628 or 01491 577654 or clerk@shiplakepc.com ) as it will be the key information we use to make informed choices for the future of Shiplake Villages' communications.
Thank you for completing the questionnaire and we look forward to sharing the results back with you, and using it to improve how we communicate in future.
Best wishes
Shiplake Villages Communications Team
Chris, David, Gareth, Jo, Helen, & Tim
Henley Youth Festival 2022 – Logo Design Competition
As part of the activities for 2022 we are asking the young people of Henley to design the HYF logo for our 2022 theme 'FRIENDSHIP'.  The Logo Design Competition is open to artists aged 4-18 years who live or are at school in the Henley area.  Entries must be submitted by email, fit on an A4 page and should include the HYF Letters as part of the design.  How to enter and the all-important entry form can be found on our website at www.hyf.org.uk/logo-competition-2022.  Application forms can also be accessed here.  The closing data for all entries is midnight on Saturday 31st July 2021.
Summer Fun @ The Oxfordshire Museum, Woodstock
Join us for a summer of FREE fun @ The Oxfordshire Museum, Woodstock in collaboration with the Oxfordshire Library Service
For more information click here
Henley Literary Festival  –  Creative Competitions
We are delighted to announce our Creative Competitions for school children, designed to get your imaginative brains whirring.
Budding writers are encouraged to write a story or poem of up to 500 words and for all the artists out there, we have an illustration competition too!
The competitions will be judged in three categories: 4+, 6+ and 9+, with the shortlisted entries being judged by former Children's Laureate, Chris Riddell.
The for the chance to win £50 worth of books for your school library, a signed copy of Chris Riddell's book and a Bell Bookshop voucher, send your entry to info@henleyliteraryfestival.co.uk.
For further information visit our website  :  https://henleyliteraryfestival.co.uk/whats-on-2/competition/
Henley Music School – Summer Camp
Henley Music School are holding a Summer Camp on 16th, 17th and 18th August 2021.  This will be held at Badgemore School and sessions will include drumming, instrumental ensembles, theatre and show tunes, aural, theory, specialist small person classes and 'try an instrument' sessions.  All taught by inspirational, professional musicians!  To enrol and for full information please go to www.henleymusicschool.co.uk
Smart Raspberry  –  Summer Cookery Workshops
We have got some fantastic workshops lined up for you this Summer Holidays! Your child can join us IN-PERSON at our venue in Peppard Common or ONLINE for those that would rather join in from the comfort of their own home, or that don't live near our venue
Here are just some of the recipes we'll be making with our Juniors; Mini Quiches, Rocky Road, Chicken Fajitas, Cheese Straws, Brownies, Chocolate Krispie Squares, Homemade Burgers & Brioche Buns.
These workshops are suitable for children aged 5-11 years old. The children will make four delicious recipes every day, as well as a craft activity or game and will have plenty of breaks throughout the day.
**EARLY COOK DISCOUNT £50 per child per day instead of £60** offer ends Wednesday 30th June 2021.
Our workshops will run from 9.00-15.00 on the following dates:
Tuesday 27th and Wednesday 28th July
Tuesday 17th and Wednesday 18th August
Tuesday 24th and Wednesday 25th August
You can find more information about what we have planned and secure your dates with the early cook discount via this link:  https://portal.smartraspberry.com/Classes/Venue+Details/?id=92
Only 15 spaces available per in person workshop, so booking sooner rather than later is advised!
We can't wait to cook with your children again this Summer, if you have any questions please do not hesitate to get in touch
NHS – TalkingSpace Plus – overcoming anxiety and depression together
Even with the lockdown easing, it is still really important to take the time to care for yourselves.  TalkingSpace Plus is a free, confidential NHS service for adults in Oxfordshire, to help people when they're feeling stressed, anxious or low and we offer our treatments online for your safety and convenience.
If you feel you would benefit from support please contact our service directly on 01865 901222 or visit www.oxfordhealth.nhs.uk/talkingspaceplus