All branded school uniform can be bought via Price and Buckland. You can either pay to get items sent to your home or get them sent to School Office for collection at no extra charge. We get two free deliveries per month free of charge.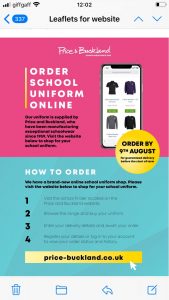 Price and Buckland Shiplake CE Primary School section
Boys
Winter
Grey trousers (long or short)
White or light blue shirt
Royal blue tie (gold stripe in Yr. 6)*
Grey or navy socks
Royal blue school sweater*Black shoes
Summer
Royal blue school polo shirt*
Royal blue school sweater*
Royal blue fleece
(optional)* – for outdoor wear
Girls
Winter
Grey skirt, pinafore dress or school trousers
White or light blue blouse
Royal blue tie (gold stripe in Yr 6)*
Royal blue school cardigan or sweater*
White, grey or navy socks or navy or grey tights
Black shoes
Summer
Blue and white check dress  or royal blue
Polo shirt and grey skirt or school trousers
Royal blue cardigan or sweater*
Royal blue fleece
(optional)* – for outdoor wear
P.E. Kit
We have sourced the new kit through Brian Rosier (No-Sweat UK), a local supplier who works with other schools in the area. Each child will need the following . Everything except trainers and plimsolls are available to order through Parentmail. Here's what you'll need:
Games kit
Blue sports T Shirt
Navy/ stripe shorts/navy skort
Royal /white stripe hoody
Team colour socks (red, blue, yellow, green)
Trainers/plimsolls
Swimming : Yrs 3 + 4  : Swimming costume and cap are essential (Autumn and Spring Term only)
P.E. Kit available via Parentmail
Hoody (royal blue and white, with front logo in white) £17.50 (Sizes available : age 5/6, 7/8, 9/10, 11/12, 13/14)
Tee shirt (royal blue, with front logo in white) £ 7.50 (Sizes available : age 3/4, 5/6, 7/8, 9/10, 11/12, 12/13, 14/15)
Shorts (navy blue, with royal blue panel and white piping – NO LOGO) £ 9.00 (Sizes available : age 5/6, 7/8, 9/10, 11/12, 13/14)
Sports Socks (in sports team colour – red, emerald (green), amber (yellow) or royal (blue) (Sizes available : small (size 1 – 5), medium (size 6 – 11) £ 3.50
Skort is the same as the shorts (£9.00) and they come in sizes 5/6, 7/8, 9/10, 11/12.  The next size (small) cost £10 and can be ordered via the office.
If your child would like their initials printed on the Tee shirt or Hoody, there will be an additional charge of £3 per garment. The initials would be printed on the sleeve of the Tee shirt/Hoody. Printing of initials on garments is OPTIONAL.
How to purchase P.E. kit
Go to Parentmail (Sales tab). Please select the item(s) you require and size – initials can also be ordered and paid for here.
If you do order and pay for initials to be added to the kit, please complete the online form 'PE Kit Initials' – this form will allow you to specify what initials you want on the garments.
If you are unable to pay via the Parentmail system, please speak to the School Office who will be able to accept your cash payment and they will place your order for you.
Reception
Infants follow their own programme of P.E, movement and games.
Juniors
Rugby, football and netball are played by juniors during the winter and cricket, rounders and athletics during the summer. Lessons often alternate between these traditional sports and  other games.
All clothing and footwear should be clearly named and stored in a named P.E. bag.
No jewellery, including earrings, may be worn for any P.E. session.