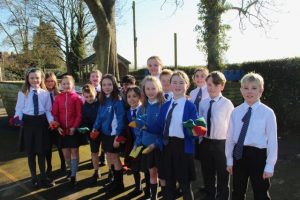 The Sports Ambassador's were in action today, running, leading and teaching children from Reception, Year's 1, 2 and 3.
Chosen by their class teachers they have the opportunity to develop leadership skills, self belief and confidence amongst other things. They've already run a planning session, today was all about delivery.
Specialists Sports Teacher, Miss Smith takes a step back and empowers her Ambassadors to learn how to co-operate and communicate as a team.  Today in the spring sunshine the children were being taught to throw accurately.
Chiara Charman Vazquez says " We're doing a good job. I like teaching, especially the small kids how to play the games".  Another Ambassador Jake Day says ' It's really fun, younger children really enjoy it. It's really fun teaching them".







We look forward to see how they develop over the term.